Today, I've stepped aside from the fashion and beauty posts to bring you a simple favourites list. I'm all too aware that writing a style and beauty blog can seem like a very materialistic pastime, and while I love collecting pretty dresses and colourful eyeshadows, my life does not just revolve around money and possessions. I love so many other things in life; so many of life's little joys that are completely free or cost very little to enjoy. Of course, there are still a few materialistic favourites in the mix, but here is a list of one hundred of my favourite little things in life.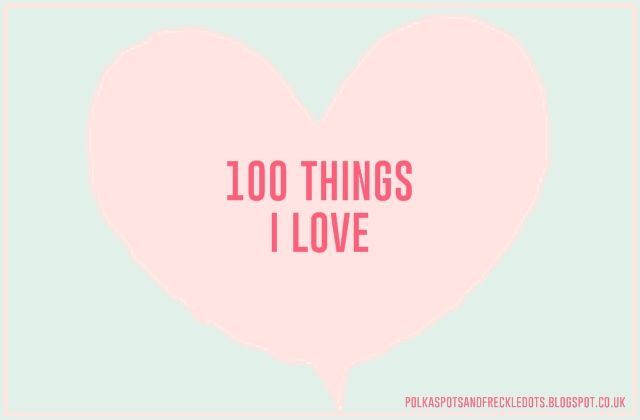 1. The excitement of waking up on the day of a concert.
2. The adrenaline rush of excitement when seeing a favourite band perform live.
3. Having a moment of interaction with a band member, if only just for a second.
4. Going to see Boyzone or Ronan Keating with my best friend and always having so much fun together, getting up to no good!
5. Going to see a musical at the theatre. (My fave is Phantom of the Opera).
6. Visiting the seaside town of Perranporth in Cornwall, one of my favourite places in the world.
7. The sound of seagulls at the seaside.
8. The sound of the sea, especially when heard from bed while on holiday.
9. Standing in the surf and feeling the pull of the tides around my feet as the waves progress and recede from the shore.
10. Body-boarding in the sea on a hot summer's day.
11. Going for a walk on the beach.
12. The taste of salt water on my lips after a swim in the sea.
13. Feeling the sun on my skin.
14. Pretty sunsets / sunrises.
15. Looking up at the stars, especially during meteor showers.
16. The sound of trees dancing in the wind.
17. The howl of the wind during a storm.
18. When the leaves changes colour in Autumn, and everywhere is transformed in to a backdrop of gold, yellow, rust, red, orange, and burnt sienna.
19. Crunching through Autumn leaves.
20. Watching the snow falling from the sky.
21. Taking walks in the snow.
22. Feeling the cold on my face during the Winter when I'm wrapped up in cosy layers.
23. Warm towels straight out of the dryer- especially on a cold day.
24. Crunching over grass after a heavy frost.
25. The coziness of a thick fog, when I'm at home.
26. Thunderstorms, when I'm safely indoors.
27. When blossom starts appearing on the trees in the Spring time.
28. When the leaves return to the trees after a long winter.
29. The smell of freshly cut grass.
30. Hearing owls hooting outside my bedroom window every night.
31. The sound of rain drumming against the windows and roof.
32. Going for a walk in the rain without an umbrella, then returning home to a hot bath or shower.
33. The smell of tarmac after a rain storm.
34. Curling up under a blanket with a good book when it's raining.
35. The blissfulness of spending an entire day reading a good book.
36. The smell of old books.
37. Yellow flowers- especially sunflowers, tulips, and roses.
38. When the mornings and evenings get brighter / longer after a long winter.
39. Baking bread and kneading the dough.
40. The smell of cakes and other sweet treats baking in the oven.
41. Receiving hand-written letters in the post.
42. Receiving a parcel... even if it's just something I bought for myself.
43. When strangers say 'hello' as we pass in the street.
44. Receiving compliments from strangers.
45. Giving compliments to someone and making them smile.
46. The first gulp of a cold drink when I've been thirsty for hours.
47. Cold showers on hot days.
48. Driving around with the windows down on a hot summer's day.
49. Blasting good tunes out when the sun is shining.
50. Turning my favourite songs up loud.
51. The relief that comes from taking off the bra after a long day. Ladies, you know what I'm talking about!
52. The affection from a pet who is so happy to see you.
53. The excitement of waking up on Christmas Eve and preparing for Christmas Day... the lead up is my favourite part!
54. Driving around to see Christmas lights in December.
55. The smell of real Christmas trees and foliage.
56. The smell of lit Jack O' lanterns on Halloween.
57. The nostalgia I get from wearing my favourite Escada perfume, which immediately takes me back to NYC.
58. Remembering a great memory, and breaking out in a smile I can't contain.
59. Wearing a new dress for the first time and feeling fabulous!
60. When I find the dress / top / skirt I've been coveting for ages, and it's the last one and in my size! Fate!
61. Discovering a new novelty print on a fantastic dress.
62. Discovering a new novelty bag.
63. Wearing green eyeshadow and feeling complete.
64. Painting my nails in beautiful bold colours.
65. The smooth feeling of freshly shaved legs... mine, of course! I don't go around stroking people's legs!
66. Watching Julie and Julia *contended sigh*.
67. Watching Steel Magnolias for the 1000th time. Utter contentment.
68. Memories of my fur babies, even though they're up in critter heaven.
69. Bunny noses.
70. Spending a day at the zoo.
71. Visits from my best friend.
72. Lovely messages from friends.
73. When somebody messages me to say "this made me think of you."
74. Going out for a meal or a few drinks with family and friends.
75. Men who open doors for you.
76. Laughing with my sisters until my sides hurt.
77. Movie nights at the sister's.
78. Dramatically singing along to great (or bad!) tunes, especially musicals, in the car with my sister.
79. Travelling by train or plane to go somewhere fun, and spending hours daydreaming out of the window with good tunes on my iPod. It always feels like an adventure.
80. Fun day trips out to London, especially on a sunny day.
81. Seeing loved-up old couples holding hands.
82. Seeing rugged tattooed men lovingly cradling tiny babies.
83. Looking through my memory box and remembering a life time of great memories.
84. Waking up naturally without the alarm.
85. Waking up before the alarm and realising I still have a couple of hours to sleep.
86. Buying myself flowers, just 'cause.
87. Irish accents.
88. Lazy days spent watching movies, alone or in good company.
89. When I walk in to a shop and my favourite song comes on.
90. Spending a blissful few hours listening to the back catalogues of Fall Out Boy, Linkin Park, Panic! at the Disco, Boyzone and / or Ronan Keating.
91. Writing on the first page of a new notebook.
92. Finding time to do some creative writing and actually having the inspiration to write.
93. Citrus scents.
94. Fresh bedding, straight from the dryer.
95. Cuddles from puppies / kittens / bunnies / any affectionate little critter.
96. Taking a walk in the countryside, especially alongside a river.
97. The peacefulness of waking up at dawn and hearing nothing but birdsong.
98. The peacefulness of going for a walk really early in the morning when people are still in bed, and feeling like I've got the world to myself.
99. Perfectly dyed hair after too many weeks/months with my roots showing.
100. Fireworks displays, especially on Bonfire night.
And that is 100 of my favourite little things in life! I could keep listing; I love so many random things.
When you actually stop to think about it, you can see just how many great things there are in life. They may not all be particularly interesting or news-worthy, but they can bring a smile to my face just the same.
What are your favourite little things in life?
Make sure you link me to your lists if you decide to write your own!